Financial Advice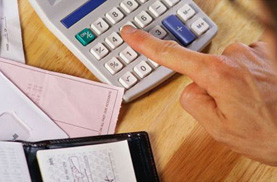 Financial issues may be raised before your business has been set up. You may need to raise finance from a bank, or get investment by attracting investors. Banks may offer their own financial advice or you may prefer to use the services of an independent financial advisor.
Most businesses choose to hire an accountant. Accountants will offer a range of services for your business, from basic bookkeeping to specialist financial advice. You may use an accountant to prepare financial statements or your end of year tax return. An accountant may also carry out an audit of your business - appoint an auditor - or advise on auditing.
Accountants can help deal with tax. Whether this is sales tax such as VAT (Value Added Tax) or more specialist tax law, such as tax avoidance. A good accountant can save your business a lot of money, and although many self-employed people will do their own accounts, it can pay to find an accountant. A good accountant may be very good value for money. Often the best way of finding a good accountant is through personal recommendations from other business people in your network.
Other Business Resources